🌺 Triple the glow, triple the fun! 🌺
Bring your skincare routine to the next level by stocking up on our beauty drink Skin Glow. With high-quality marine collagen and our scientifically formulated blend of vitamins and minerals for reduced wrinkles, glossy hair, strong nails, and a radiant complexion.

Your Triple Glow Kit contains: 3 x Skin Glow – Marine Collagen Plus
marine collagen

from sustainable fishing, reduces wrinkles and provides firm and radiant skin

natural vitamin C

(50% of your daily requirement!) from the fruit camu-camu promotes collagen formation for normal skin and protects it from oxidative stress

the

beauty minerals Zinc, Biotin and Selenium

provide beautiful skin, strong nails and shiny hair
Result: strong hair & nails, reduced wrinkles and a radiant complexion #SkincareBoost
Thanks to 100% natural hibiscus flower and pomegranate powder, you can look forward to mild & fruity mornings that will make you radiate well-being from the inside out!
👆 Collagen is the most important fibrous component of skin, bones, tendons, cartilage, blood vessels, and teeth.
🧬 Collagen is the structural protein that is most abundant in the human and animal body.
👀 It gives cells and tissues their shape and resilience.
👩🏾 It is not water soluble, makes the skin tight and keeps structures elastic and firm at the same time.
🌺 The human body's own collagen production slows down between ages 20 - 25. From there on its collagen content goes down approx. 1,5% every year. The good news is you can refill your collagen levels with the help of high-quality nutritional supplements.
Daily mix 3 heaped teaspoons (approx. 15 g) with min. 300 ml of water. Shake it, stir it or blend it into your fav smoothie!
---
Sustainable & eco-friendly raw materials
No added sugar, preservatives, or flavour additives
✅ scientifically based formulation
✅ efficiency proven by clinical studies
✅ High quality marine collagen from sustainable fishing
✅ Made in EU
✅ easy intake & neutral taste
✅ Contains 8 essential amino acids
❌ free from preservatives
❌ free from flavorings
❌ free from sweeteners
❌ naturally gluten-free and lactose-free
Pomegranate fruit powder, marine collagen peptides, hibiscus fruit powder*, camu camu fruit powder* (contains 5% vitamin C), buckwheat sprout powder.
*13,3 % of the agricultural ingredients are from organic farming DE-ÖKO-001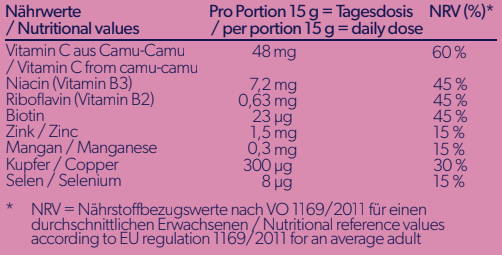 What makes the Triple Glow Kit special?

Don't forget the before-and-after pic, because:
Our secret to the ultimate SkincareBoost lies in the quality of our ingredients and the scientifically based formulation of Skin Glow.
High-quality marine collagen and valuable vitamins & beauty-minerals will provide your skin, hair and nails with everything they need to make you shine bright like a diamond 💎
What does Skin Glow taste like?
Skin Glow has a mild and fruity taste, because it contains 100% natural pomegranate and hibiscus flower powder.
Can I combine Skin Glow and Inner Beauty / Gut One?
Does plant-based collagen exist?

Collagen is a protein found only in animals. It is the main component of connective tissue (bone, skin, cartilage tissue, ligaments, tendons, blood vessels, etc.), to which it provides structure and strength. The extract of certain algae with gelling properties, e.g. agar-agar, is often mistakenly titled as "plant-based collagen". However, unlike animal collagen, it does not contain proteins as it consists of polysaccharides. Thus, it is a completely different product in chemical as well as functional terms, which cannot provide you with the desired benefits.
Is Skin Glow suitable for vegetarians & vegans?

Skin Glow contains collagen from sustainable fishing. This means that it is not suitable for vegans and vegetarians. However, if fish is on your menu, you can safely consume Skin Glow, as the collagen is not derived from cattle, pigs or poultry.