✨A new beginning✨
Transform your life experience in 90 days – No Drama is your loyal companion for natural and effective hormone balance & PMS support.
Our special blend of high-quality herbs, superfoods and other important mood-boosting nutrients will help you radiate well-being, even in the stormiest times (of the month).
The PMS Relief Kit contains: 3 x No Drama
In addition to the healing plants Ashwagandha and Shatavari known from Ayurvedic medicine, No Drama contains valuable plant substances from curry leaf extract, buckwheat germ powder and rice extract for maximum support of your immune and nervous system.
No Drama is 100% natural, vegan & gluten-free, as well as free of artificial additives.
👩🏽‍🔬 Ingredients explained
Ashwagandha + Shatavari
These famous Ayurvedic medicinal plants & adaptogens may promote stress-reduction and hormone-balancing effects. In Ayurveda they are used to relieve stress, anxiety, nausea and pain. They may also promote a positive effect on the nervous system, circulation and digestion. It is said that when Ashwagandha is paired with B-vitamins in particular, it unfolds even more of its soothing and mood-boosting qualities.
Magnesium Oxide
Our magnesium is 100% natural from the Dead Sea! No Drama supplies 50% of your daily requirement of magnesium, which supports normal muscle functions and promotes relaxation.
Curry leaf extract
Natural iron from curry-leaf extract helps with fatigue and promotes cognitive performance. 💆 Iron also contributes to the normal production of red blood cells and normal metabolism. A daily dose of No Drama (2 capsules) supplies 55% of your daily iron requirement.
Buckwheat germ powder
Contains plenty of natural vitamins and minerals which support the nervous system, mental functions and regulates hormonal activity. It supplies
45 % of the daily requirement of thiamine (vitamin B1), riboflavin (vitamin B2), niacin (vitamin B3), pantothenic acid (vitamin B5), vitamin B6 and vitamin B12
15% of the daily requirement of zinc, manganese and copper
B-Vitamins
Vitamin B6 contributes to regulated hormonal activity and natural balance in your everyday life. Vitamin B12 and pantothenic acid support the normal mental performance and function of the nervous system.
Take 2 capsules daily, unchewed, with plenty of cold water in the morning.
Please do not mix with warm or hot drinks, as the valuable vitamins are sensitive to heat.
---
100% natural & plant-based
Sustainable & eco-friendly raw materials
No added sugar, preservatives, or flavour additives
✅ vegan, gluten free, 100% natural and organic
✅ 100% natural ingredients
✅ high quality made in Germany
✅ easy to swallow capsules
❌ free from preservatives
❌ free from flavorings
❌ free from sweeteners
❌ naturally gluten-free and lactose-free
Shatavari Powder, Magnesium Oxide, Buckwheat Sprout Powder, Curry Leaf Extract (contains 3 % Iron), Hydroxypropylmethylcellulose (Vegetable Capsule Shell), Sensoril® Ashwagandha Extract¹, Rice Extract
¹Sensoril ® is a registered trademark of Natreon, Inc.
🌿 100% plant-based and natural ingredients 🌿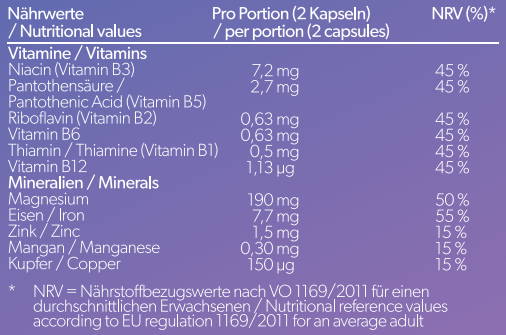 What makes No Drama special?

No Drama is specifically formulated to have a gentle balancing effect on body and mind to boost the mood and mental performance.
It is formulated to fully meet the requirements of the female body for a balancing effect on the hormones, physical and psychological PMS symptoms.
Our carefully selected blend of plant extracts, beauty minerals, vitamins and superfoods is designed to support your body with essential nutrients, and your mind with power food for hormonal fluctuations before, during and after your period.
Gentle support to provide relaxation and clarity for mind and body 🧘
What are Shatavari & Ashwagandha?
The adaptogenic superfoods Ashwagandha and Shatavari are special plants well-known from Ayurvedic medicine, where they enjoy a high reputation as valuable medicinal plants.
Shatavari in particular is considered an elixir for women and is used for menstrual cramps and to calm the body and mind.
Ashwaghandha is known for its strengthening and energizing qualities and shows promising anti-inflammatory properties. This potent adaptogen is said to help fight oxidative stress, as well as soothe anxiety and restlessness.
Do I take No Drama only during menstruation?
No, to get the full effect, take 2 capsules every morning.
Yes, No Drama is made exclusively from high-quality plant-based ingredients.
Is No Drama exclusively for women?

Every body is happy to be supported with medicinal plant powers!
While we have formulated No Drama with a focus on the needs of the female body specifically, the composition of valuable plant extracts, vitamins, beauty minerals and superfoods can have a beneficial effect on everyone.
Can I take No Drama if I am on the pill?
To our knowledge, there are currently no contraindications and therefore the effect of the pill should not be affected. However, please check this and other questions regarding hormonal contraception with your doctor.
Is No Drama suitable for pregnant women and nursing mothers?
No Drama is not recommended for nursing mothers and pregnant women, please check with your doctor for options and alternatives.
Why is chaste tree extract not included in the formulation?
As the chaste tree, which is a rather powerful herb, can cause side effects in some people, we chose to rely on the qualities of ancient & well-tried ayurvedic herbs paired with valuable vitamins and minerals to provide maximum nourishment and support for every person.
Can I use No Drama together with inner beauty, gut.one and other her1 products?
Definitely! All of our products are designed to be complementary to each other. As each fulfills a specific need they are all suitable to be taken together.