Because True Beauty Is About Feeling Good in Your Own Skin🍓
Inner Beauty is a clever combination of symbiotic strawberry powder and a digestion boost capsule. For improved digestion, strengthened immunity, clear skin and vitality from within.
Our original #pinkdrink is a 100% natural health booster with 25 billion active, natural, good microorganisms, plant based fiber, and nutrients from organic superfoods ✨
45 Days of Inner Beauty contains: 
1x Inner Beauty

(Strawberry) in iconic reusable jar

2x Inner Beauty refill

(Strawberry) in handy travel pouch

1x 15 Digestion Boost

calcium capsules

1x 30 Digestion Boost

calcium capsules
🌟 What makes Inner Beauty our bestseller?
💖 The original #pinkdrink since 2019
🤗 Tens of thousands of satisfied customers
🧼 Made exclusively from clean, plant-based ingredients
🍃 No added sugar, artificial coloring, fillers, or preservatives
♻️ 100% natural, sustainable, raw & vegan
🥼 Manufactured and rigorously controlled in Germany
⭐ EU organic certified ingredients
🍹 Easy & creative: drink it, shake it, mix it…
Your daily dose of Inner Beauty + Digestion Boost contains:
25 billion active, natural, good microorganisms

(lacto and bifidobacteria cultures) that inhabit the gut

A natural calcium capsule for optimal support of your digestive enzymes. Covers

50% of the daily calcium requirement

A perfect nourishing blend of

plant-based fiber

for the good microorganisms to thrive

Valuable nutrients from organic superfoods

New formula: Even higher superfood content + natural calcium boost for even better digestion and wellness!
5️ Facts about Microorganisms
🤰🏾 Every human being is inhibited by billions of microorganisms, approx. 3kg of which are located in the gut.
🧭 All these microorganisms together are called the human microbiome - a dynamic and complex ecosystem with many important tasks.
🛡️ The entirety of good microorganisms settled in the digestive tract prevent the colonization of it by harmful bacteria, which would cause great damage to physical and mental health.
🥬 Microorganisms are naturally found in certain fermented foods like yogurt, sauerkraut, kimchi, kombucha, or kefir.
🧑🏽‍⚕️ In 1908, the bacteriologist Ilya Ilyich Metschnikov was awarded with the Nobel Prize for Physiology/Medicine for his research into the various microorganisms in the human body.
---
100% natural & plant-based
Sustainable & eco-friendly raw materials
No added sugar, preservatives, or flavour additives
✅ 100% natural ingredients
✅ 0% artificial additives
✅ rigorously controlled quality
✅ made in Germany
❌ free from preservatives
❌ free from flavorings
❌ free from sweeteners
❌ naturally gluten-free and lactose-free
Net quantity per jar/bag: 150 g (approx. 15 servings at 10g per serving, approx. 30 servings at 5g per serving)
Ingredients Inner Beauty Strawberry: Strawberry powder, pea protein*, baobab pulp*, inulin*, Lactobacillus Acidophilus LA1, Lactobacillus Bulgaricus LB2, Bifidobacterium Bifidum BB47.
Ingredients Digestion Boost: Hydroxypropylmethylcellulose (plant based capsule), Calcium carbonate (contains 40 % Calcium).
*from organic farming DE-ÖKO-001. EU/non-EU agriculture.
🌿 100% natural and vegan.🌿
There may be slightly different filling heights in the jar. Since the jars are mechanically filled, they always contain 150g.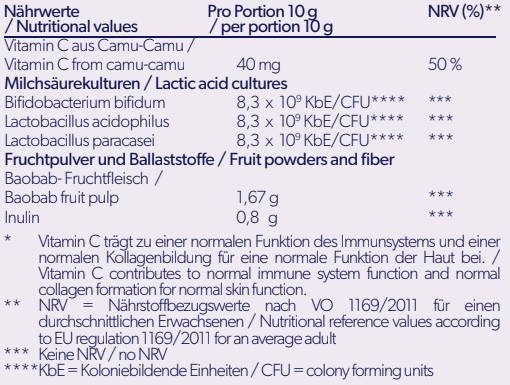 How do I take Inner Beauty?

Mix 1-2 heaped tsp (approx. 5-10 g) daily with min. 300 ml water, coconut water, or non-dairy milk, or blend into your favorite smoothie. Drink first thing in the morning for best results and take one calcium capsule along with it.
Avoid warm drinks (tea/coffee) 30 minutes before and after taking Inner Beauty as it may hinder absorption of nutrients.
Not a substitute for a balanced and varied diet. Do not exceed the recommended daily intake. Close after opening, store in a cool, dry place and out of the reach of small children.
What makes 45 Days of Inner Beauty special?
45 Days of Inner Beauty is specifically formulated to supply your body and mind with everything you need for well-being from the inside out and a good gut feeling.
Science has come a long way in its understanding of the relationship between overall well-being and gut health.
Your gut is home to a lot of microorganisms, some of which are supportive & friendly, some rather mischievous. Inner Beauty is specifically formulated to help maintain a balanced gut microbiome.
The probiotics in our iconic #pinkdrink travel down through the body, delivering their super powers to the intestinal tract, where they can colonize and (help you) flourish.
A healthy gut allows fewer harmful substances to pass through, thus reducing inflammation and ensuring a radiant complexion.
Let's deepen our relationship with our body and listen to our gut!
Is Inner Beauty suitable for pregnant and nursing women?
According to current knowledge, there are no known negative effects from taking lactic acid cultures (lacto and bifido bacteria) before, during, and after pregnancy.
According to current data*, there is no association between miscarriage, premature birth or developmental disorders and the intake of lactic acid cultures and related foods. Nevertheless, any intake of food supplements during pregnancy and lactation, as well as in the phase of baby planning, should be done under medical consultation due to different pregnancy courses and multifaceted health circumstances.
In case of any uncertainties (also towards our products) we recommend you to ask the independent organisation, "Embryotox". Embryotox is the Drug Safety - and Advice Centre for Embryonic Toxicology at the Charité-Universitätsmedizin Berlin, a publicly funded institution. Since 1988, they have been providing independent information on the safety of drugs and supplements during pregnancy and breastfeeding.
*Jarde A, Lewis-Mikhael AM, Moayyedi P, Stearns JC, Collins SM, Beyene J, McDonald SD. Pregnancy outcomes in women taking probiotics or prebiotics: a systematic review and meta-analysis. BMC Pregnancy Childbirth. 2018 Jan 8;18(1):14. doi: 10.1186/s12884-017-1629-5. PMID: 29310610; PMCID: PMC5759212.
*Dugoua JJ, Machado M, Zhu X, Chen X, Koren G, Einarson TR. Probiotic safety in pregnancy: a systematic review and meta-analysis of randomized controlled trials of Lactobacillus, Bifidobacterium, and Saccharomyces spp. Journal of Obstetrics and Gynaecology Canada. 2009 Jun;31(6):542-552. doi: 10.1016/S1701-2163(16)34218-9.; PMID: 19646321
*Gomez Arango LF, Barrett HL, Callaway LK, Nitert MD.Probiotics and pregnancy. Curr Diab Rep. 2015 Jan;15(1):567. doi: 10.1007/s11892-014-0567-0.; PMID: 25398206
Further scientific studies available on request
Does Inner Beauty have any side effects?

The Lactobacillus Acidophilus LA1, Lactobacillus Bulgaricus LB2, Bifidobacterium Bifidum BB47 contained in Inner Beauty are scientifically well documented strains and have been the subject of research for many years.
Inner Beauty contains natural ingredients from food and can be taken without hesitation, as long as there is no intolerance to any of the ingredients. If you are taking lacto bacteria and bifidobacteria for the first time, your body may need some time to get used to it.
If you experience any undesirable effects, stop taking the product and consult your doctor.
Does Inner Beauty contain allergens?

All our products are naturally free of allergens such as lactose, gluten or nuts. They are filled by machine in a factory that also processes soy, fish, shellfish, lactose, gluten, celery, anise, mustard, and molluscs. According to our producers, tests performed after machine cleaning show no evidence of trace allergens.