YOUR FUTURE OF WELL-BEING
Bedankt dat je deel uitmaakt van onze missie; vrouwelijke gezondheid op de kaart zetten door natuurlijke en effectieve oplossingen aan te bieden.
"Ik heb her1 opgericht met de visie om vrouwen gedurende verschillende leeftijden en levensfases te ondersteunen. Vertering, darmgezondheid en vrouwelijke gezondheid worden vaak als taboes beschouwd. Ons team is aan het werken om dit te veranderen."
Onze bestseller Inner Beauty 2.0
24,9 miljard nu nog krachtiger micro-organismen (lacto- en bifidobacterieculturen)

een natuurlijke calciumcapsule die 50% van je dagelijkse behoefte aan calcium dekt voor een optimale ondersteuning van je spijsverteringsenzymen

vitamine C uit Camu Camu (50% van je dagelijkse behoefte!) die de collageenvorming bevordert voor een stralende teint

plantaardige vezels van biologische agave (inuline) - perfecte voeding voor de goede micro-organismen om te gedijen!

nog meer vezels en mineralen uit gevriesdroogd fruit (aardbei 2.0 of appel en zwarte bes)

leuk weetje: je zou minstens 2,5 kg yoghurt per dag moeten eten om dezelfde hoeveelheid probiotica binnen te krijgen

Resultaat: een rustig gevoel in je buik en een stralende huid #dagopgezwollenbuik
Onze bestseller gut one
45 biljoen actieve probiotica micro-organismen & vezels voor een sterk immuunsysteem


Bevat 50% van de dagelijkse aanbevolen hoeveelheid aan vitamine B (incl. foliumzuur & biotine!) om concentratievermogen en mentale prestaties te verbeteren



Slechts 1 capsule per dag – ook perfect voor onderweg
Resultaten: jouw darmen blij, jij blij – een gebalanceerde darmflora heeft een positief effect op jouw humeur, emoties, gesteldheid en mentale welzijn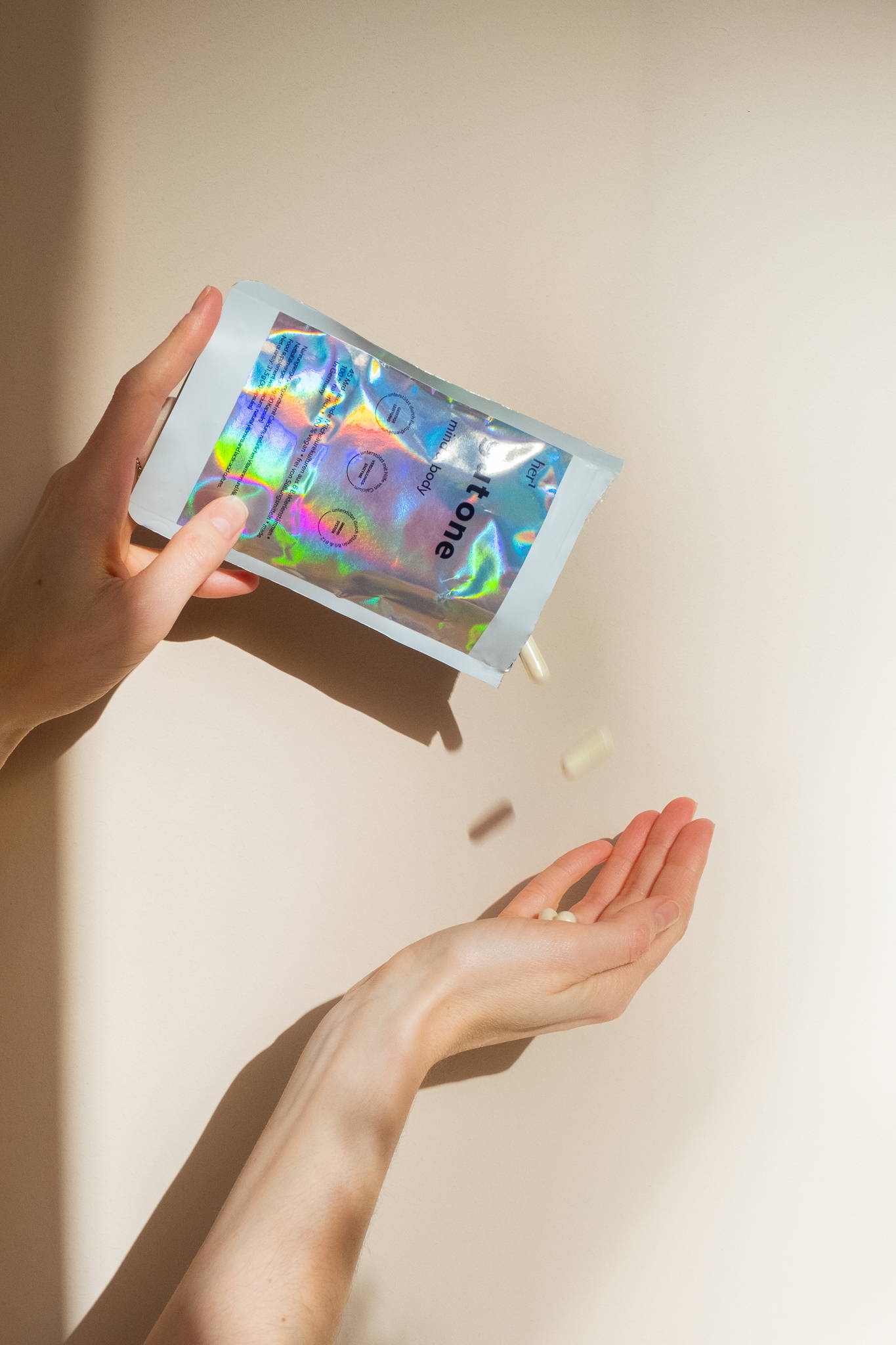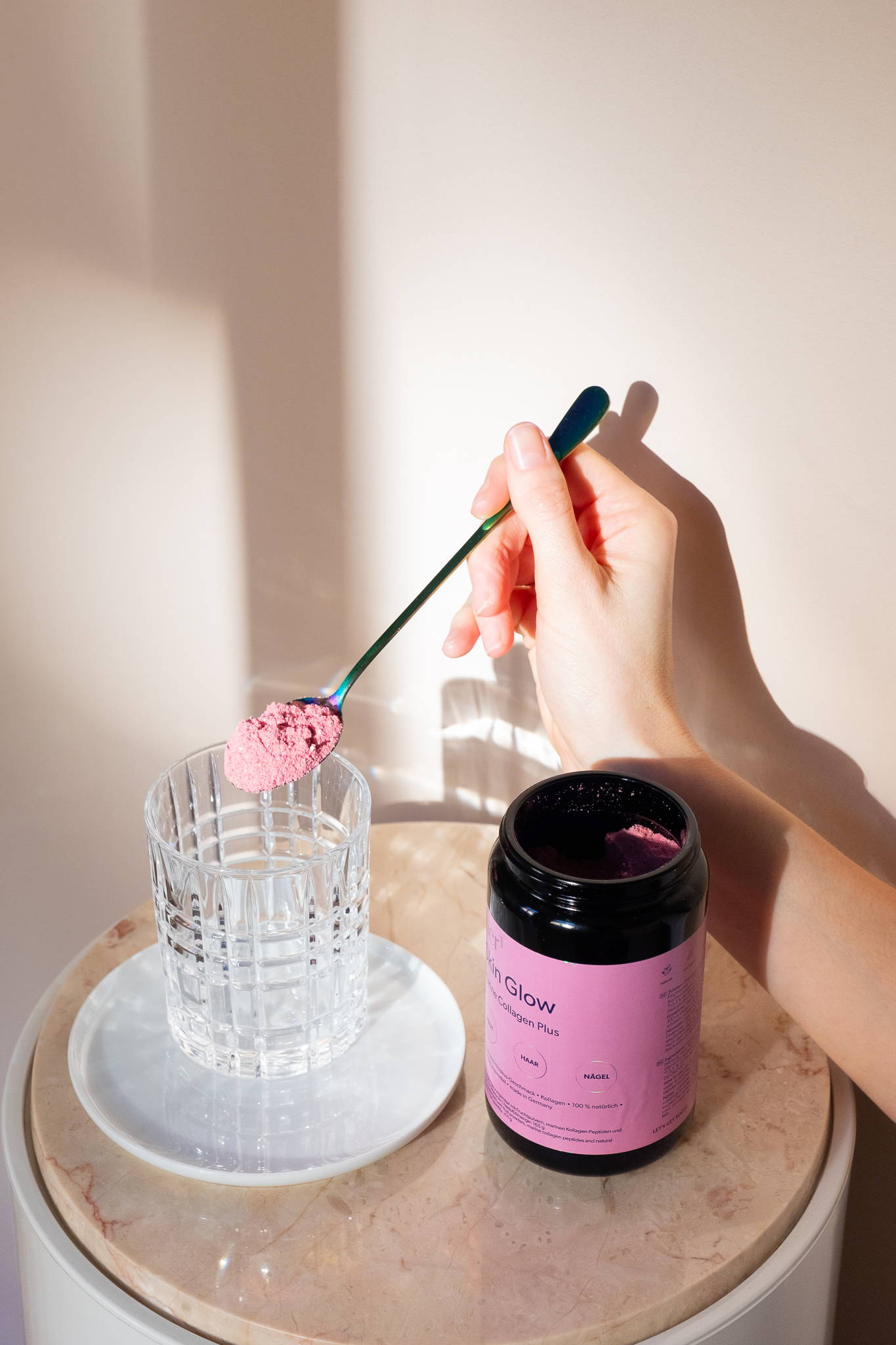 Ons nieuwe product Skin Glow
marine collageen (vanuit duurzame visserij) wat rimpels vermindert en een stevige en stralende huid stimuleert


natuurlijke vitamine C (50% van jouw dagelijkse aanbevolen hoeveelheid!) vanuit camu-camu wat bijdraagt aan de huideigen collageenaanmaak bij een normale huid en het beschermt tegen oxidatieve stress


de schoonheidsmineralen zink, biotine en selenium dragen bij aan een mooie huid, sterke nagels en glanzend haar
Resultaten: sterke haren & nagels, vermindert rimpels en zorgt voor een stralende huid #skincareboost
Ons nieuwste product No Drama –
Hormone Balance & PMS Support
een formule voor hormoonbalans gebaseerd op Ayurvedische wijsheid

 

Ashwagandha en Shatavari zijn gewaardeerde medicinale planten die bekend staan voor hun stress verlichtende werking, vitaliseren en het in balans brengen van hormonen

 

vitamine B en natuurlijke zink ondersteunen mentale functies en reguleren verschillende hormoonniveaus

 

IJzer en magnesium stimuleren de normale spierwerking en helpen te ontspannen
Resultaten: een fijne gemoedstoestand, een relaxed gevoel en helderheid gedurende de hele maand, ondersteuning bij fysieke en mentale PMS symptomen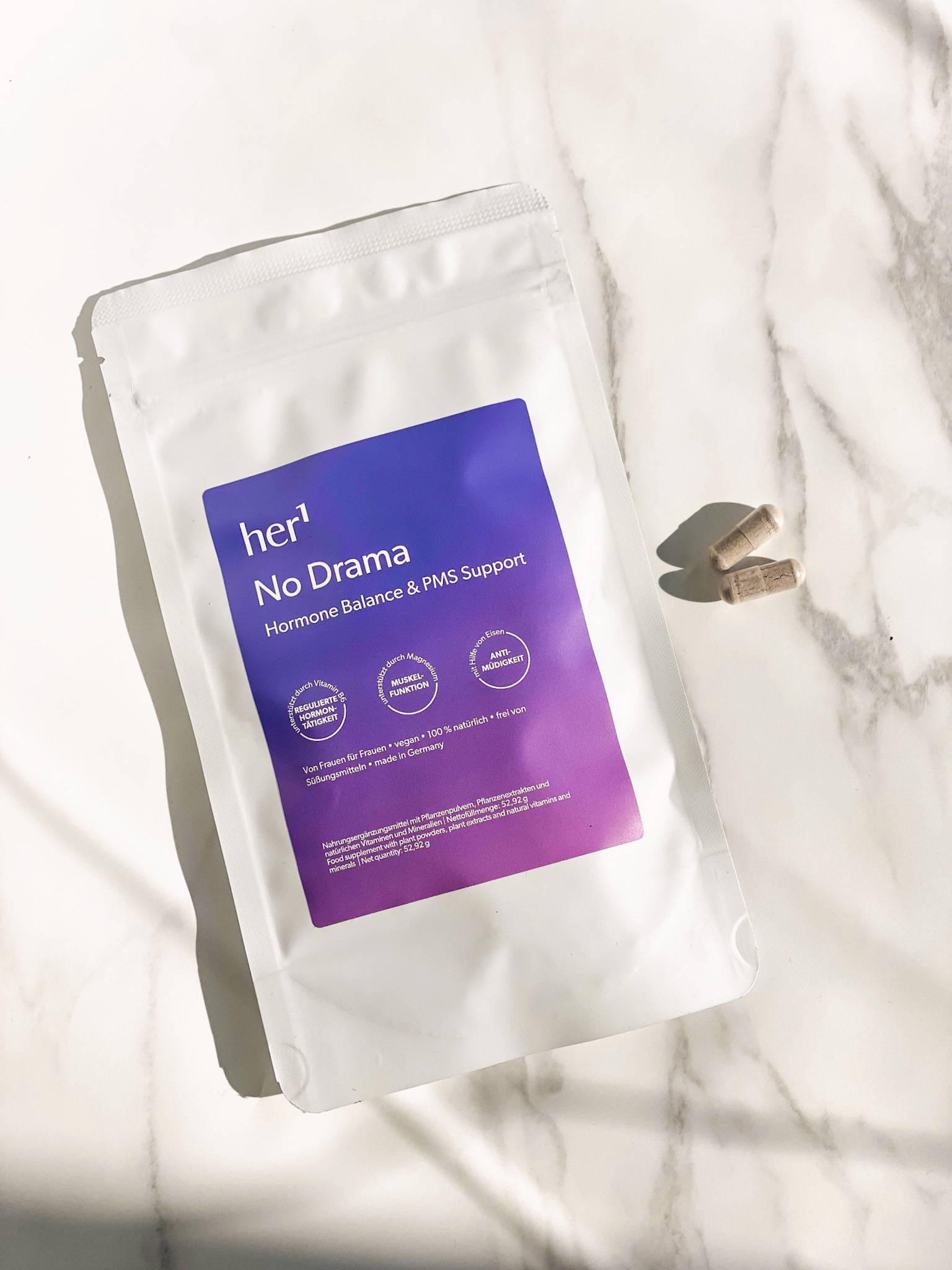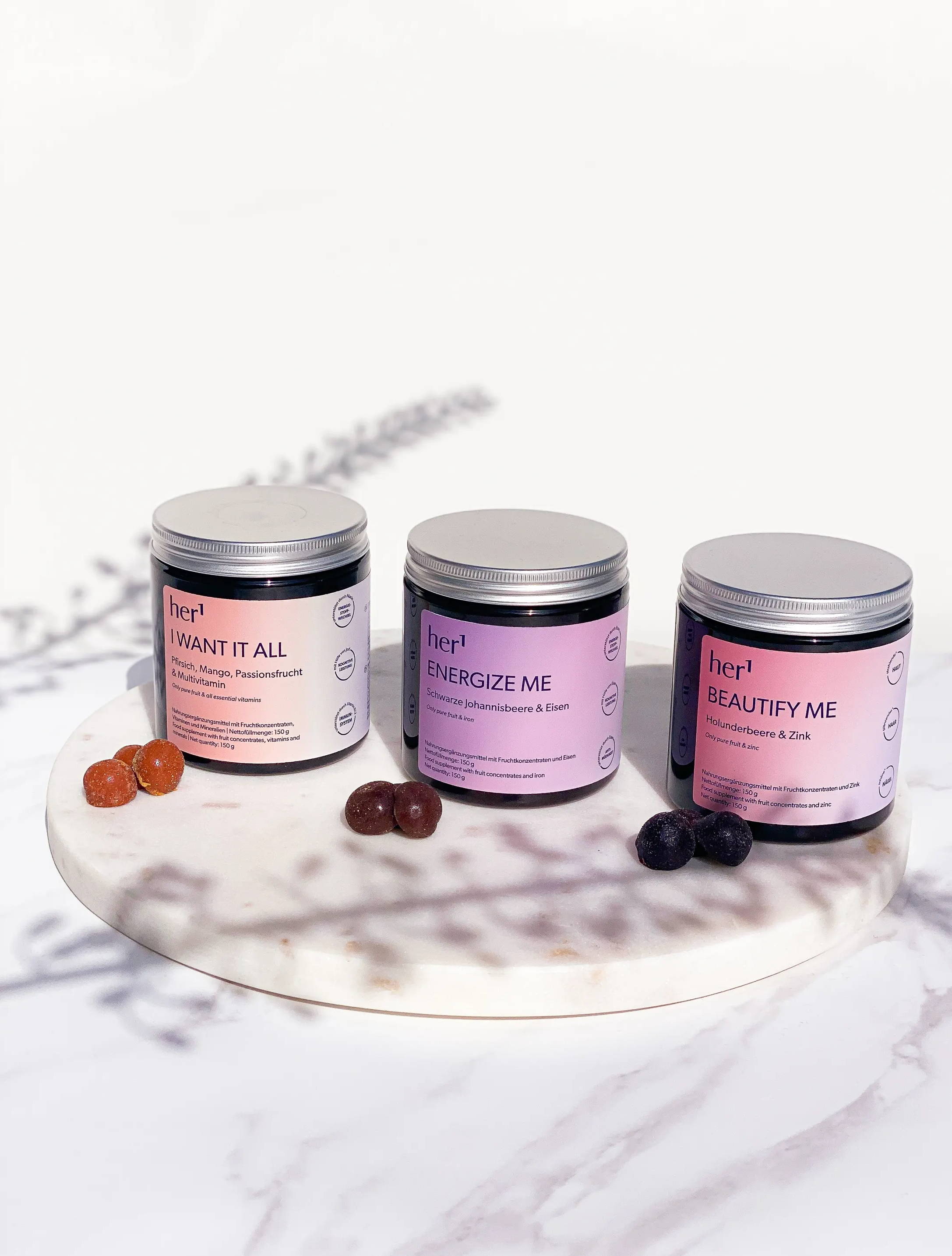 Ons nieuwste producten Fruit Bites
fruitige vitamine bommen met superkrachten!


bestaan uit min. 95% fruit


alleen fruitzoetstoffen, geen kunstmatige toevoegingen, geen glucosestroop en gemaakt van natuurlijke ingrediënten


Fruit Bites blikjes zijn gemaakt van 100% gerecycled PET, en de deksels zijn gemaakt van 100% aluminium, een van de meest recyclebare materialen
Resultaat: wellness om te snacken: De nieuwe her1 Fruit Bites zullen zeker het lekkerste onderdeel van uw zelfverzorgingsroutine worden!
Al onze producten worden gemaakt in Duitsland en grondig onderzocht door onze medische dokter en team van experts. 
Onze producten worden gemaakt van enkel schone, plantaardige ingrediënten. Ze zijn allemaal 100% vrij van toegevoegde suikers, gluten, lactose, kunstmatige kleurstoffen, vullingen, conserveermiddelen en kunstmatige smaakstoffen.
We maken gebruik van duurzame, door de EU gecertificeerde, biologische grondstoffen. Onze verpakkingen zijn 100% recyclebaar en herbruikbaar. 
♀️ vrouwelijk welzijn onder de aandacht brengen
✔️ de taboes rondom gezondheidsonderwerpen voor vrouwen doorbreken en daarmee female empowerment ondersteunen
🧠 kennis overbrengen
🤝 lange termijn relaties opbouwen om toegevoegde waarde te creëren voor beide partijen
💎 een eerlijke en transparante samenwerking gebaseerd op vertrouwen
🎁. onze 100% natuurlijke gezondheidsboosters van hoge kwaliteit
🤸‍♀️ nauwe betrokkenheid bij jouw gemeenschap
📝 een persoonlijk plan waarmee jij jouw doelen en wensen kunt behalen
💡 wij delen onze bevindingen weer met jou
👭 wordt onderdeel van ons female empowerment netwerk
Kan ik mijn story posten voor ik een briefing heb ontvangen, een code en een swipe-up link?
Nee, plaats alsjeblieft geen content voor je vanuit ons de briefing, persoonlijke code en link hebt ontvangen.
We nemen via de mail contact met je op, zo'n 2-3 dagen voor je jouw story gaat plaatsen. Als dit niet het geval is, check dan alsjeblieft eerst met ons voor je jouw story plaatst.
Moet ik mijn story eerst laten goedkeuren?
Indien het niet anders is besproken, hoef je jouw story niet eerst door ons goed te laten keuren. Neem jouw story ook niet eerder op tenzij het niet mogelijk is om het op een andere manier te doen.
Mag ik ook andere merken promoten op dezelfde dag?
Tenzij het anders is besproken, vermijd je het plaatsen van andere merken voor in ieder geval 8 uur voorafgaand en na het posten van jouw story. Niemand houdt van constante commerciële uitingen op iemands account. 
Kan ik mijn story uitstellen?
Natuurlijk snappen we dat er soms iets tussenkomt en je het plaatsen van jouw story moet uitstellen. Maar gezien onze planning stellen we het op prijs als je dit ons tenminste 48 uur van tevoren laat weten. Je mag dan zelf een nieuwe datum voorstellen, bij voorkeur in dezelfde maand. Samen vinden we dan een geschikt nieuw moment. 
Moet ik mijn artikel, post, TikTok of reel eerst toesturen ter goedkeuring?
Ja, graag. Stuur ons jouw content (afbeeldingen / video en tekst / caption) tenminste 24 uur van tevoren toe ter goedkeuring en plaats niet voor we hierop akkoord hebben gegeven.
Hoe vaak kan her1 aanpassingen doorgeven op jouw content?
Hopelijk begrijp je dat we maximaal 2 keer nodig hebben om aanpassingen door te geven in de content. We weten dat dit een extra moeite is, maar aangezien het om een betaalde campagne gaat willen we dat we allebei blij zijn met de resultaten. 
Mag ik documenten (zoals een briefing, FAQ etc.) die ik vanuit her1 heb ontvangen delen met andere partijen?
We vragen je om alle informatie die wij jou toesturen vertrouwelijk te behandelen en niet met andere partijen te delen. Dit geldt niet alleen voor de periode dat wij onze samenwerking hebben lopen, maar ook hierna. 
Waar kan ik mijn factuur naar toesturen?
Je mag ons jouw factuur per mail toesturen, dan sturen wij het weer door naar onze financiële afdeling. Ons factuuradres is:
her1 GmbH
Kastanienallee 84
10435 Berlin
Wanneer wordt mijn factuur betaald?
Wij hebben zoals ieder bedrijf een betalingstermijn, zoals je hopelijk begrijpt. Het duurt daarom tot 20 werkdagen nadat wij jouw factuur hebben ontvangen voordat deze wordt betaald.
Wat als ik niet genoeg producten heb ontvangen om mijn volgende story mee te plaatsen?
Zonder producten kan je geen content maken. Om dit te voorkomen, check dan graag 7 dagen voor het plaatsen van jouw story of je nog genoeg producten hebt. Zo niet, neem dan contact met ons op; dan hebben wij genoeg tijd om nieuwe producten toe te sturen. 
Waar vind ik meer informatie over de producten?
Je vindt meer informatie over de producten op de productpagina's op onze website of op de FAQ-pagina. 
Heb je interesse om met ons samen te werken of heb je vragen over jouw campagne of onze producten? Je kunt ons altijd bereiken door een mail te sturen naar collaboration@her.one
Thank you for being part of our mission to create awareness on women's health topics and offer natural, clean and effective solutions for women's specific needs throughout all phases of their lives.
"Talking about digestion, gut health and female health are still considered taboo by many. That is why our team is working on changing this."
Our bestseller Inner Beauty 2.0
24,9 billion now even more potent microorganisms (lacto and bifidobacteria cultures)


a natural calcium capsule that covers 50% of your daily calcium requirement for optimal support of your digestive enzymes


vitamin C from Camu Camu (50% of your daily requirement!) that promotes collagen formation for a radiant complexion


plant-based fiber from organic agave (inulin) - perfect nourishment for the good microorganisms to thrive!


even more fiber and minerals from freeze-dried fruits (strawberry 2.0 or apple and blackcurrant)



fun fact: you'd have to eat at least 2.5 kg of yogurt a day to get the same amount of probiotics
Result: harmony in the belly and clear skin #byebyebloating
Our bestseller gut one
45 billion active probiotic microorganisms & fiber for a strong immune system


contains 50% of your daily requirement of all B vitamins (incl. folate and biotin!) for improved concentration and mental performance



just 1 capsule per day - perfect if you are on the go
Results: happy gut, happy you - a balanced gut has a positive effect on your mood, emotions, wellbeing and mental clarity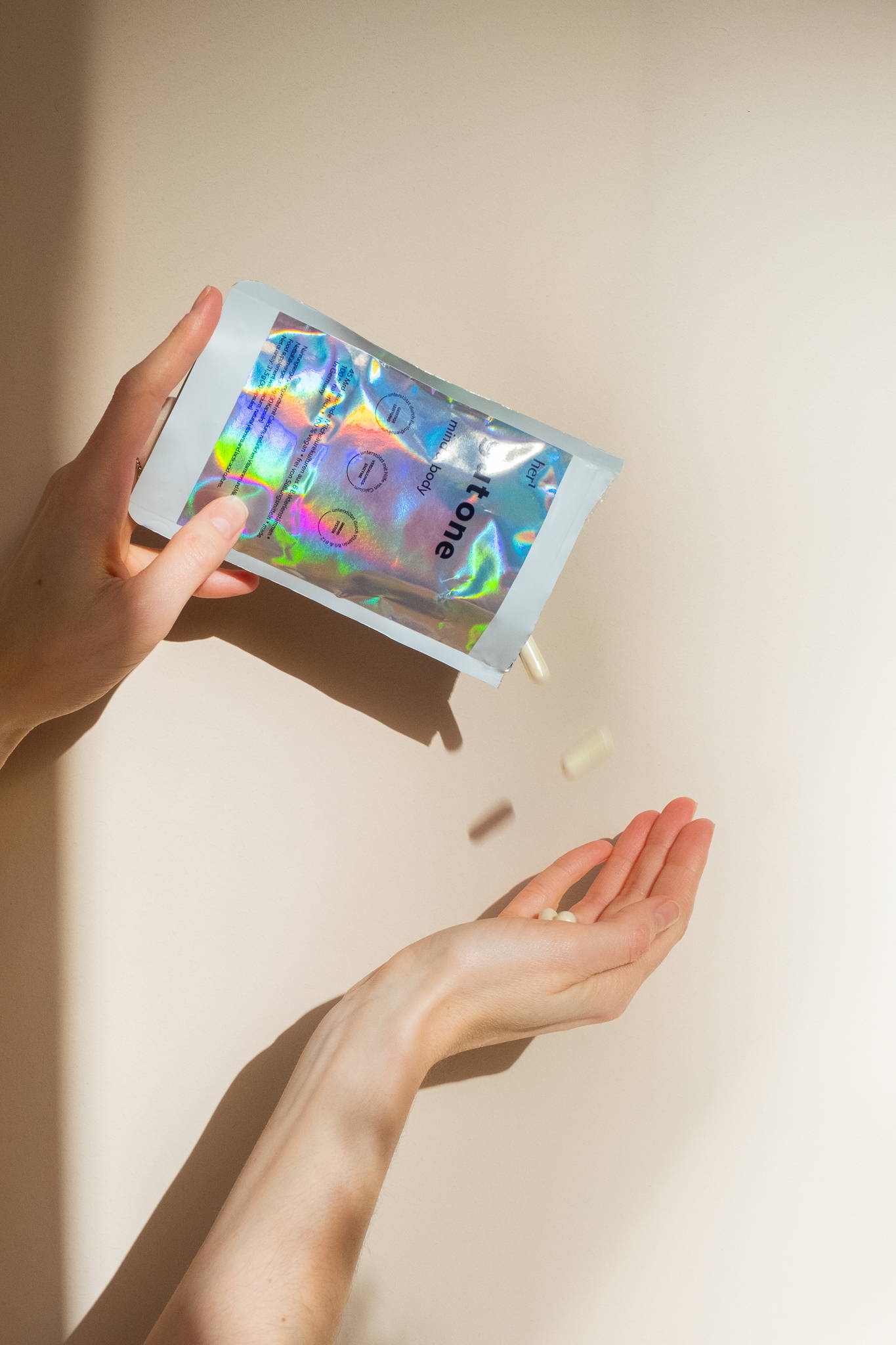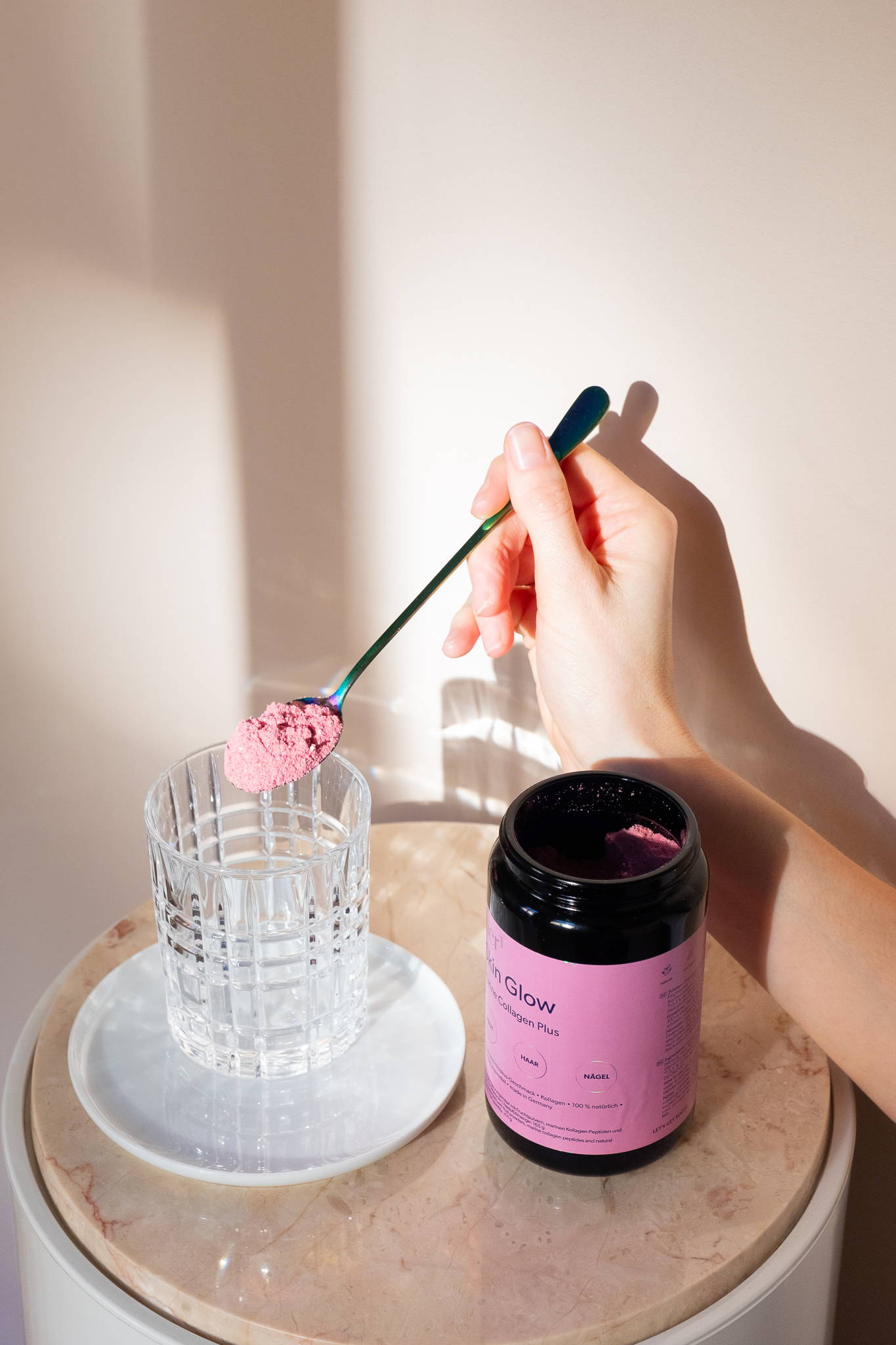 Our newbie Skin Glow
marine collagen (from sustainable fishing), which reduces wrinkles and provides firm and radiant skin


natural vitamin C (50% of your daily requirement!) from the fruit camu-camu promotes collagen formation for normal skin and protects it from oxidative stress


the b

eauty minerals

zinc, biotin and selenium provide beautiful skin, strong nails and shiny hair
Results: strong hair & nails, reduced wrinkles and a radiant complexion #SkinCareBoost
Our newbie No Drama –
Hormone Balance & PMS Support
hormone balancing formulation based on Ayurvedic wisdom


ashwagandha and shatavari are valued medicinal plants known for their stress-relieving, vitalizing, and hormone-balancing properties


B vitamins

and

natural zinc support mental function and regulate hormone levels


iron and magnesium

ensure normal muscle function and help with relaxation
Results: well-being, relaxation and clarity during the entire month, support with physical and mental PMS symptoms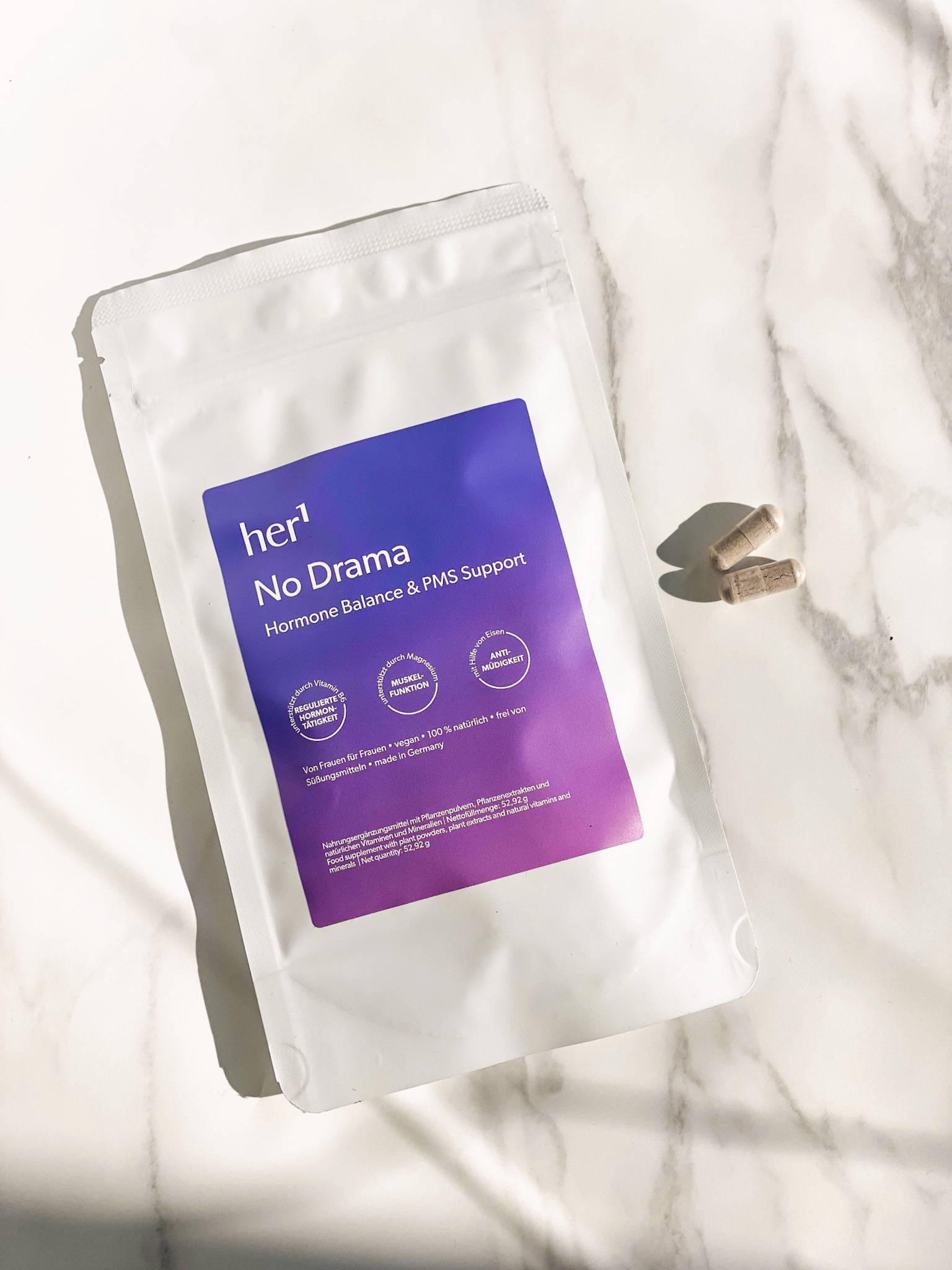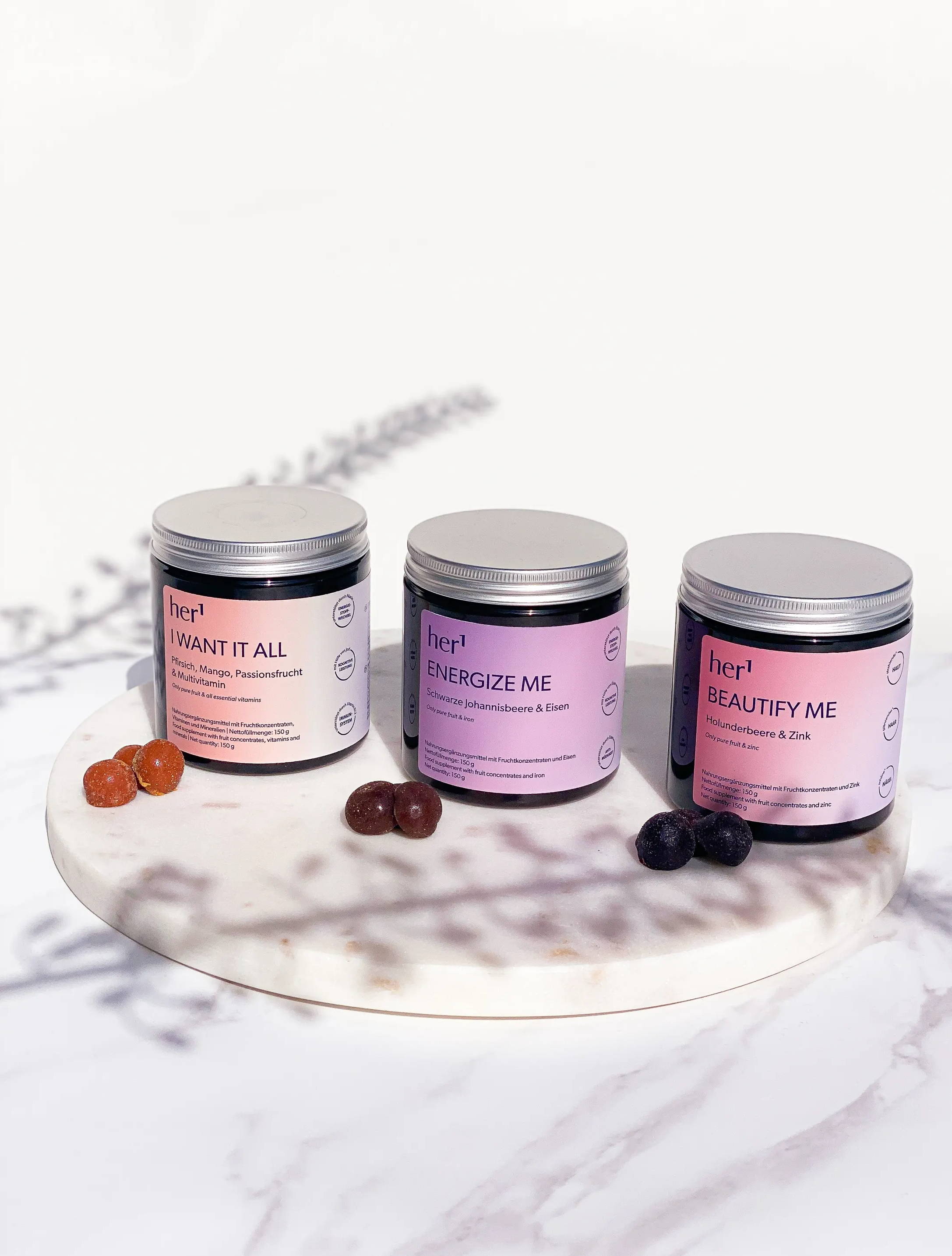 Our newbies Fruit Bites
fruity vitamin bombs with super powers!


consist of min. 95% fruit


only fruit sweeteners, no artificial additives, no glucose syrup and made from natural ingredients


Fruit Bites cans are made of 100% recycled PET, and the lids are made of 100% aluminum, one of the most recyclable materials
Result: wellness for snacking: The new her1 Fruit Bites will definitely become the most delicious part of your self-care routine!
All of our products are made in Germany and rigorously inspected by our medical doctor and a team of experts.
Our products are made exclusively from clean, plant-based ingredients. They are all 100% free from added sugar, gluten, lactose, artificial colourings, fillers, preservatives or artificial flavorings.
We use sustainable EU certified organic raw materials. Our packaging is 100% recyclable / reusable.
♀️ bring female well-being into public focus
✔️ detaboo women's health topics and thereby empower
🧠 communicate knowledge and educate
🤝 build long-term relationships to create added value for both sides
💎 honest and transparent cooperation based on trust
🎁 our 100% natural high-quality health boosters
🤸‍♀️ increased engagement with your community
📝 individual concept development to achieve your personal goals and wishes
💡 we openly share our learnings with you
👭 become part of our female empowerment network
Can I post my story before I have the briefing, code and sticker-link?
No, please do not post your story until we have sent your briefing, code, and swipe up link.
We will contact you by email 2-3 days before your story. If this is not the case, please check with us before posting your story.
Do I have to send my story for approval?
Unless otherwise discussed you don't need to send us your story in advance for review. Also, please do not pre-record your story unless it is impossible to do otherwise.
Can I promote other brands on the same day?
Unless discussed otherwise, please refrain from further brand mentions for at least 8 hours before and after your story. I don't think any of us like continuous commercials.
Of course we understand if something spontaneously comes up and you have to postpone your story. But since we also have to plan, please let us know at least 48 hours before your scheduled posting date. You are also welcome to suggest a new date, preferably in the same month. Together we will find an alternative date.
Do I have to send my blogpost, feedpost, TikTok or reel for approval?
Yes, please send us your content (images / video and text / caption) at least 24 hours in advance for approval and do not publish it until we have given our "ok".
How often can we, her1, make edit requests regarding your blogpost or feedpost?
Please understand that we may have to request changes up to two times until we approve your images, text or caption. We know that this is an extra effort for you, but we as a company pay for this service and therefore want a result with which both sides are happy.
Can I forward documents (briefing, FAQ, etc.) that I have received from her1 to third parties?
We ask you to keep all information we share with you confidential and not to share it with third parties. This applies not only for the duration of our cooperation, but also beyond.
Who do I send my invoice to?
You can send us your invoice by email and we will forward it to our accounting department. Our billing address is:
her1 GmbH
Kastanienallee 84
10435 Berlin.
When will my invoice be paid?
Please understand that we, like any company, have normal accounting processes. Therefore, it may take up to 20 business days after receiving your invoice until it is paid.
What if I don't have enough product for my next story?
No product, no story. To avoid this, please check at least 7 days before your story if you still have enough product. If not, contact us, then we can send you more products in time.
Where do I find more information about the products?
Are you interested in collaborating or do you have questions about your campaign or our products? You can always reach us at collaboration@her.one
Vielen Dank, dass du Teil unserer Mission bist, ein Bewusstsein für die Gesundheit von Frauen zu schaffen und natürliche, saubere und wirksame Lösungen für die spezifischen Bedürfnisse von Frauen in allen Lebensphasen anzubieten.
"Über Verdauung, Darmgesundheit und Frauengesundheit zu sprechen, wird von vielen immer noch als Tabu angesehen. Deshalb arbeitet unser Team daran, dies zu ändern."
Unser Bestseller Inner Beauty 2.0
24,9 Milliarden noch aktivere, gute Mikroorganismen


eine zusätzliche Kapsel versorgt dich mit 50% deines Tagesbedarfs an Calcium, zur optimalen Unterstützung der Verdauungsenzyme


natürliches Vitamin C aus Camu Camu (50% deines Tagesbedarfs) fördert die Kollagenbildung und verhilft zu strahlender Haut


Probiotika aus Bio-Agave (Inulin) als Nährstoffe für gute Mikroorganismen


pflanzliche Ballast- und Mineralstoffe aus gefriergetrockneten Früchten (Erdbeere 2.0 oder Apfel-Cassis)


fun fact: Man müsste mindestens 2,5 kg Joghurt pro Tag essen, um die gleiche Menge an Probiotika zu erhalten.
Resultat: Harmonie im Bauch und klare Haut #byebyeblähbauch
Unser Bestseller gut one
45 Milliarden aktiven guten Darmbakterien und Ballaststoffe für ein starkes Immunsystem


enthält 50% des Tagesbedarfs an allen B-Vitaminen (inkl. Folsäure und Biotin!) für verbesserte Konzentration und geistige Leistungsfähigkeit


nur 1 Kapsel pro Tag - perfekt für unterwegs


Resultat: Ein ausgeglichener Darm wirkt sich positiv auf deine Stimmung, deine Emotionen, dein Wohlbefinden und deine geistige Klarheit aus.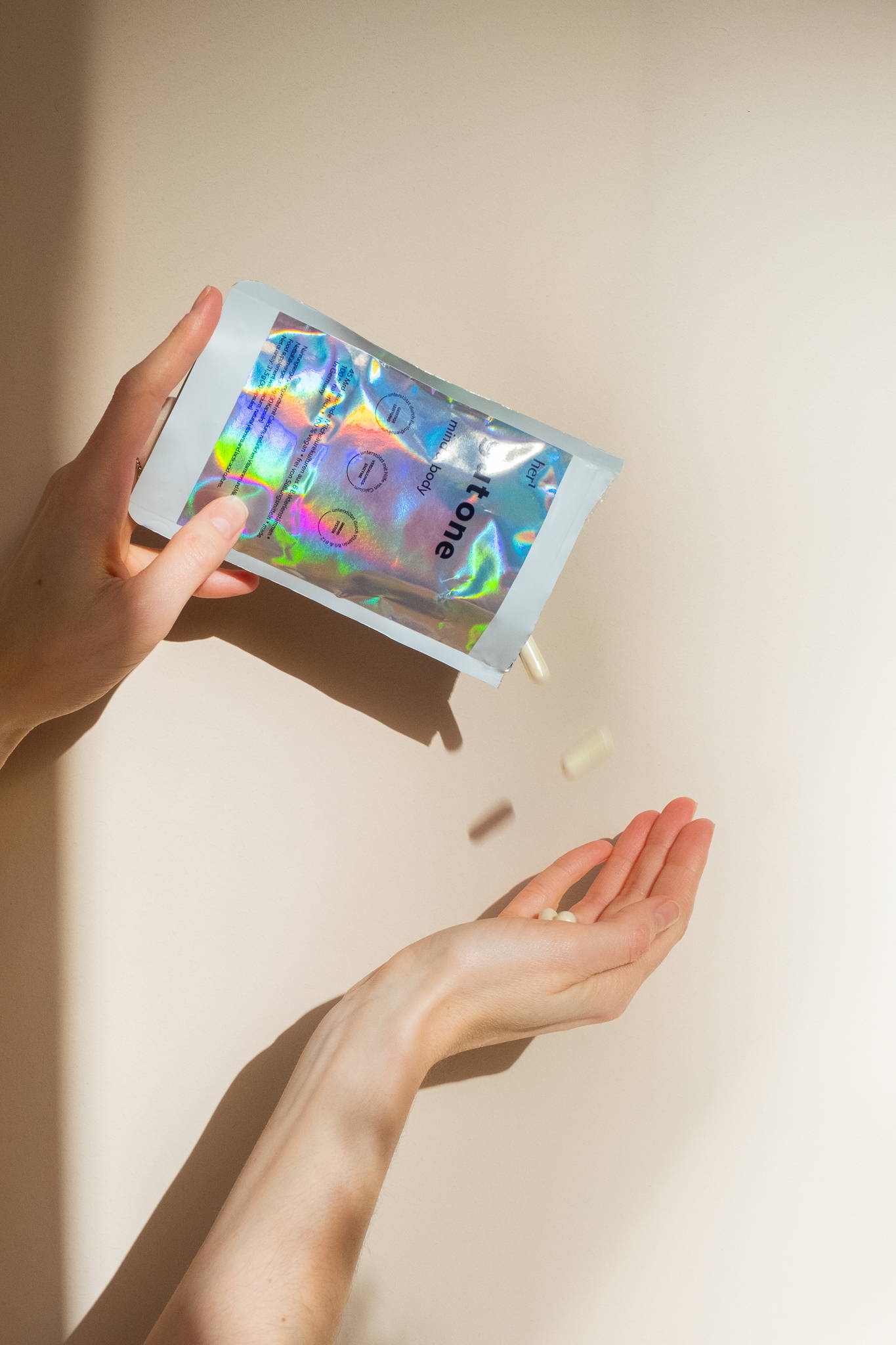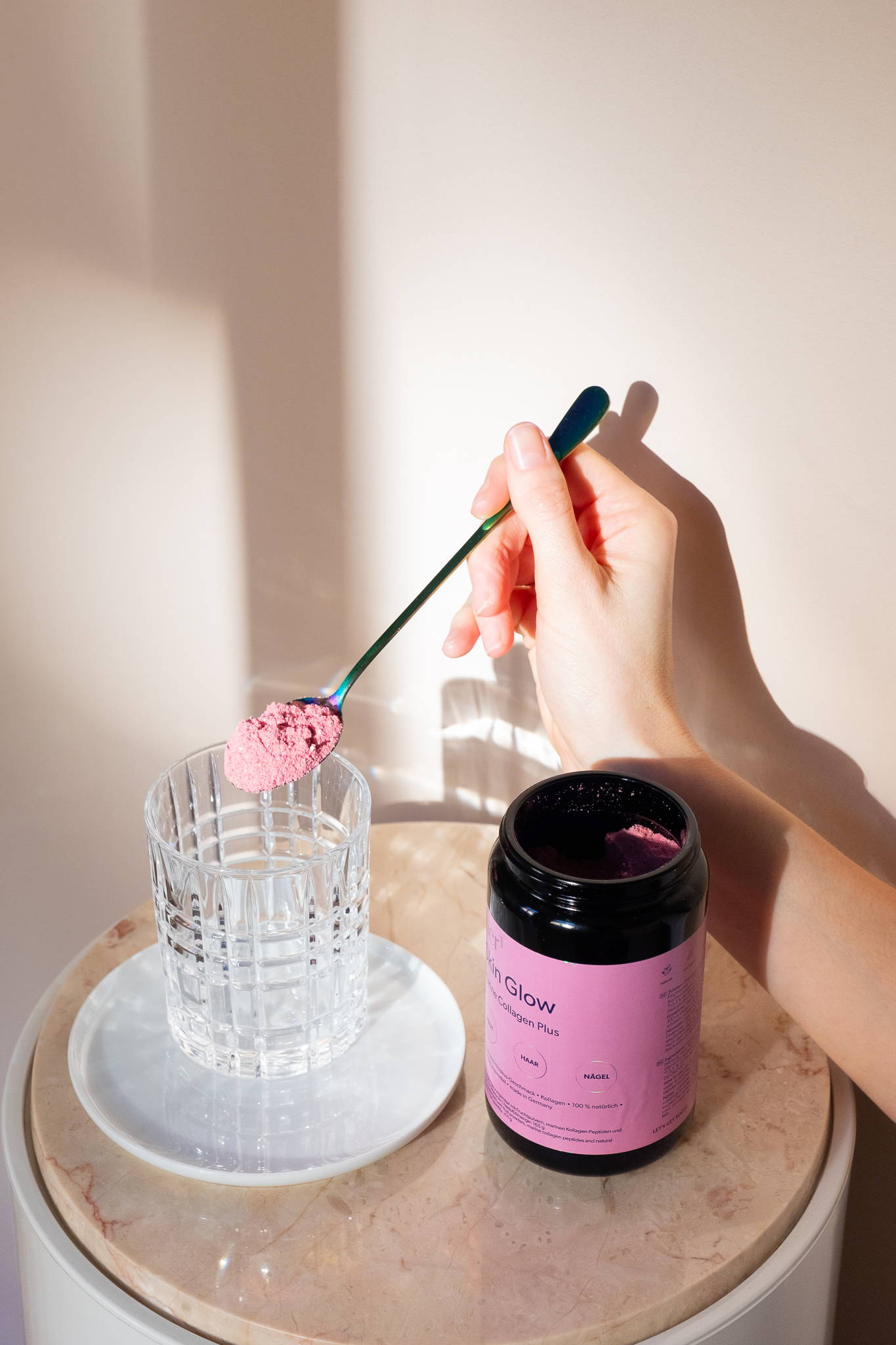 Skin Glow
mithilfe des

marinen Kollagens

werden Fältchen reduziert, deine Haut wird

zum Strahlen

gebracht und es sorgt für ein

aufgepolstertes Hautbild



enthält

natürliches Vitamin C,

welches die

Kollagenbildung

für eine normale Haut

fördert

und sie vor oxidativem Stress schützt



die

Beauty Minerals

Zink, Biotin und Selen sorgen zusätzlich für schöne Haut, starke Nägel und glänzendes Haar
Resultate: kräftige Haare und Nägel, weniger Falten und ein strahlender Teint #SkinCareBoost
Unser Newbie No Drama –
Hormone Balance & PMS Support
hormonausgleichende Formulierung auf der Grundlage ayurvedischer Weisheit

Ashwagandha und Shatavari sind geschätzte Heilpflanzen, die für ihre stressabbauenden, vitalisierenden und hormonausgleichenden Eigenschaften bekannt sind


B-Vitamine und natürliches Zink unterstützen die geistige Funktion und regulieren den Hormonhaushalt

Eisen und Magnesium sorgen für eine normale Muskelfunktion und tragen zur Entspannung bei
Resultate: Wohlbefinden, Entspannung und Klarheit während des gesamten Monats, Unterstützung bei körperlichen und geistigen PMS-Symptomen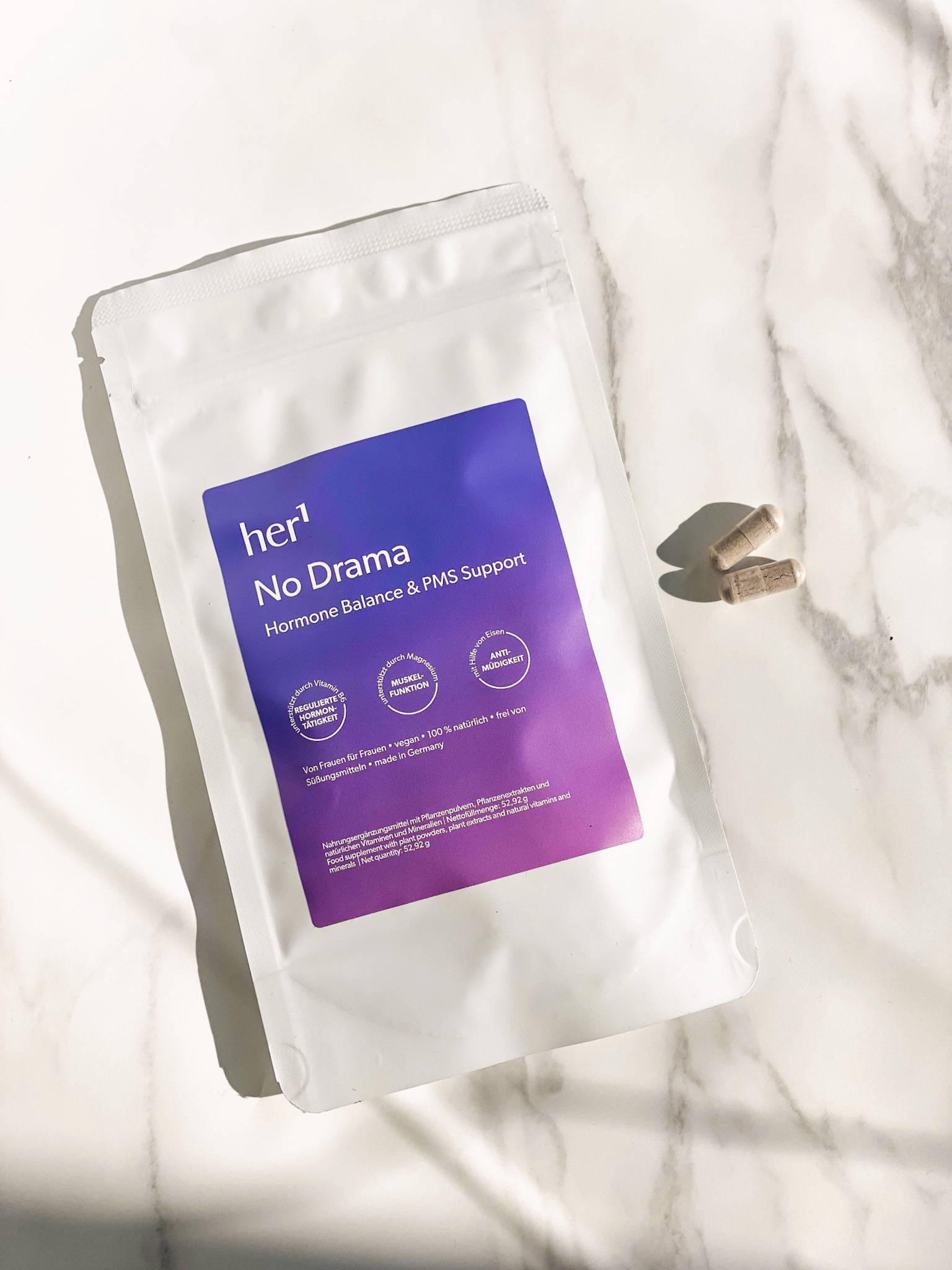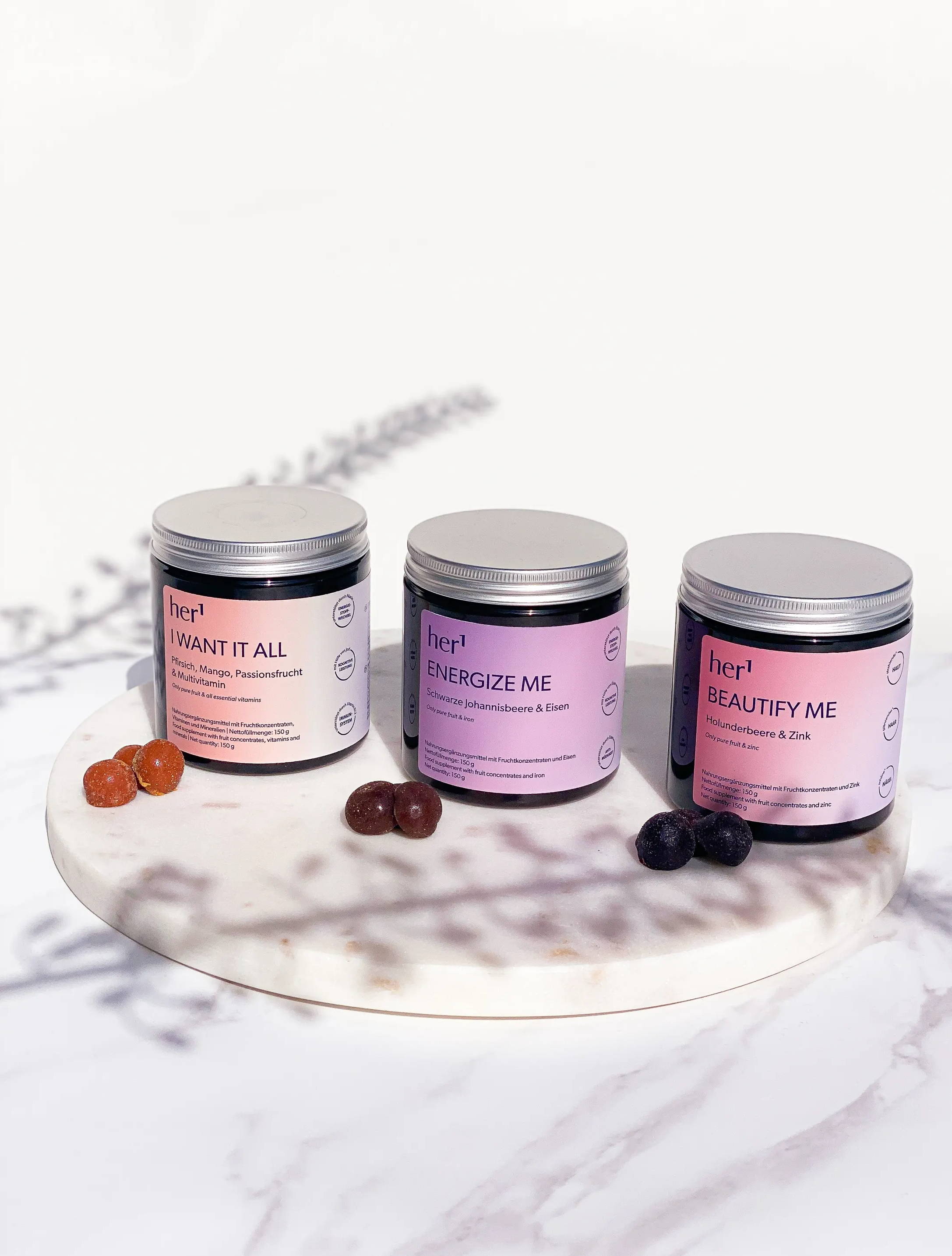 Unsere Newbies Fruit Bites
fruchtige Vitaminbomben mit Superkräften!


bestehen aus min. 95% Frucht



nur Fruchtsüße, keine künstlichen Zusatzstoffe, ohne Glukosesirup und aus natürlichen Zutaten




Fruit Bites Dosen bestehen aus 100% recyceltem PET, und die Deckel aus 100% Alu, einem der am besten recyclebaren Materialien
Resultat: Wohlbefinden zum Snacken: Die neuen her1 Fruit Bites werden definitiv der leckerste Teil deiner Selfcare-Routine werden!
Alle unsere Produkte sind Made in Germany und werden von unserer Humanmedizinerin und ihrem Team aus Expert*innen entwickelt.
Alle Rohstoffe sind natürlichen Ursprungs, das bedeutet: 100% clean, laktose- und glutenfrei, ohne Zuckerzusatz, chemische Farbstoffe, Konservierungsmittel oder Aromen.
Wir verwenden nur nachhaltige Bio-Rohstoffe und unsere Verpackungen sind zu 100% recycelbar/ wiederverwendbar.
♀️ Frauengesundheit in den Fokus der Öffentlichkeit bringen
✔️ Enttabuisierung des Themas Darmgesundheit von Frauen
🧠 Wissen vermitteln und Aufklärung betreiben
🤝 Langfristige Beziehungen, um für beide Seiten einen Mehrwert zu schaffen
💎 Ehrliche und vertrauensbasierte Zusammenarbeit
🎁 Erhöhtes Engagement mit deiner Community
📝 Individuelle Konzepterstellung, um auf DEINE Ziele und Wünsche einzugehen
💡Wir teilen unsere Learnings mit dir
👭 Werde ein Teil unseres Frauennetzwerks
Kann ich meine Geschichte veröffentlichen, bevor ich das Briefing, den Code und den Sticker-Link habe?
Nein, bitte veröffentliche deine Story erst, wenn wir dir das Briefing, den Code und den Sticker-Link geschickt haben.
Wir werden dich 2-3 Tage vor deiner Story per E-Mail kontaktieren. Sollte dies nicht der Fall sein, frage bitte bei uns nach, bevor du deinen Beitrag veröffentlichst.
Muss ich meine Story zur Genehmigung senden?
Sofern nicht anders vereinbart, brauchst du deine Story nicht vorab zur Überprüfung zu schicken. Bitte nimm deine Story auch nicht im Voraus auf, es sei denn, es ist nicht anders möglich.
Kann ich am selben Tag für andere Marken werben?
Wenn nicht anders besprochen, unterlasse bitte weitere Erwähnungen von Marken für mindestens 8 Stunden vor und nach deinem Beitrag. Ich glaube, keiner von uns mag ununterbrochene Werbespots.
Kann ich meine Geschichte verschieben?
Wir haben natürlich Verständnis dafür, wenn dir spontan etwas dazwischenkommt und du deinen Beitrag verschieben musst. Da wir aber auch planen müssen, bitten wir dich, uns mindestens 48 Stunden vor dem geplanten Veröffentlichungstermin Bescheid zu geben. Gerne kannst du auch einen neuen Termin vorschlagen, am besten noch im selben Monat. Wir werden dann gemeinsam einen Ersatztermin finden.
Muss ich meinen Blogpost, Feedpost, TikTok oder Reel zur Genehmigung schicken?
Ja, bitte sende uns deinen Content (Bilder/Video und Text/Beschriftung) mindestens 24 Stunden im Voraus zur Genehmigung und veröffentliche sie erst, wenn wir unser "OK" gegeben haben.
Wie oft können wir, her1, Bearbeitungsanfragen zu deinem Blogpost oder Feedpost stellen?
Bitte habe Verständnis dafür, dass wir unter Umständen bis zu zwei Mal um Änderungen bitten müssen, bis wir deine Bilder, deinen Text oder deine Caption genehmigen. Wir wissen, dass dies für dich ein zusätzlicher Aufwand ist, aber wir als Unternehmen bezahlen für diese Dienstleistung und wollen daher ein Ergebnis, mit dem beide Seiten zufrieden sind.
Darf ich Dokumente (Briefing, FAQ, etc.), die ich von her1 erhalten habe, an Dritte weitergeben?
Wir bitten dich, alle Informationen, die wir dir mitteilen, vertraulich zu behandeln und sie nicht an Dritte weiterzugeben. Dies gilt nicht nur für die Dauer unserer Zusammenarbeit, sondern auch darüber hinaus.
An wen muss ich meine Rechnung schicken?
Du kannst uns deine Rechnung per E-Mail schicken und wir leiten sie an unsere Buchhaltung weiter. Unsere Rechnungsadresse lautet:
her1 GmbH
Kastanienallee 84
10435 Berlin.
Wann wird meine Rechnung bezahlt?
Bitte habe Verständnis dafür, dass wir, wie jedes Unternehmen, normale Buchhaltungsprozesse haben. Daher kann es bis zu 20 Werktage nach Erhalt deiner Rechnung dauern, bis diese bezahlt wird.
Was ist, wenn ich nicht genug Produkt für meine nächste Geschichte habe?
Kein Produkt, keine Story. Um dies zu vermeiden, überprüfe bitte mindestens 7 Tage vor deiner Story, ob du noch genügend Produkte hast. Wenn nicht, kontaktiere uns, dann können wir dir rechtzeitig mehr Produkte schicken.
Wo finde ich weitere Informationen über die Produkte?
Weitere Informationen zu unseren Produkten findest du auf der jeweiligen Produktseite oder auf unserer FAQ-Seite.
Bist du an einer Zusammenarbeit interessiert oder hast du Fragen zu deiner Kampagne oder unseren Produkten? Du kannst uns jederzeit unter collaboration@her.one erreichen.