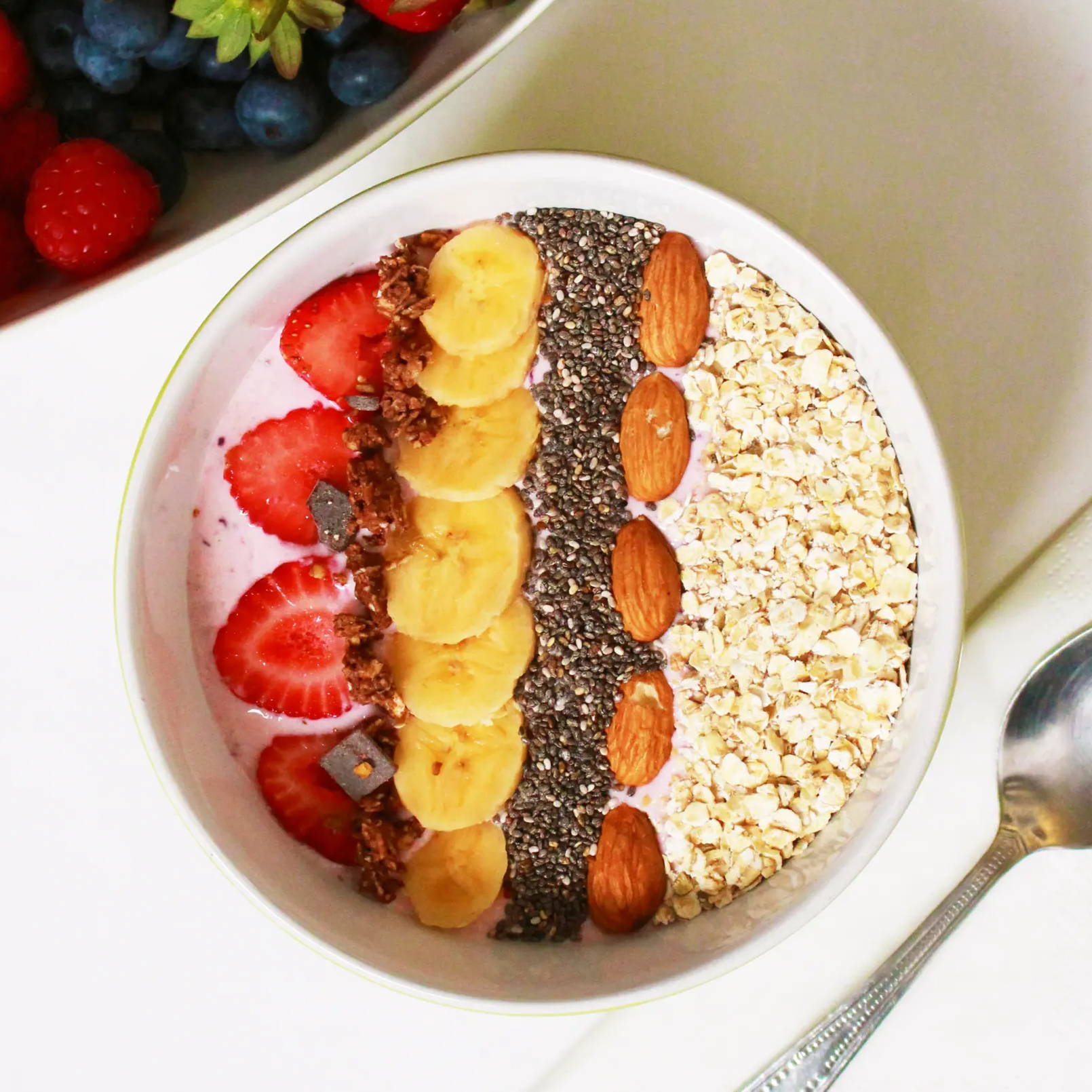 Start the day perfectly with Inner Beauty and say goodbye to your bloated belly.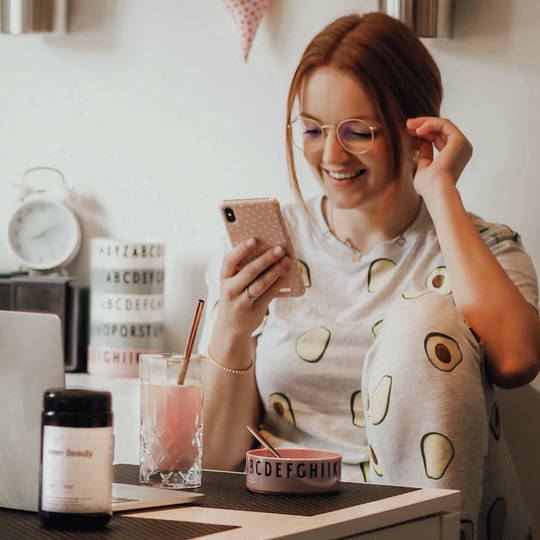 Enjoy Inner Beauty in your smoothie and ensure a healthy vitamin balance.
This is how the ingredients in our Inner Beauty work
Probiotics / lactic acid cultures
Healthy microorganisms are essential for a healthy gut. Inner Beauty 2.0 offers 24.9 billion per daily serving from 3 well-researched high-quality strains: lactobacillus acidophilus UALa-01™ & paracasei UALpc-04™, bifidobacterium bifidum UABb-10™.
Organic inulin from agave
This plant fiber keeps you feeling full and satisfied. It is also the food source of healthy microorganisms which are so important for our well-being.
Organic Baobab pulp
Baobab is a true superfood. It contains many essential nutrients, is rich in vitamins and minerals.
Vitamin C
Vitamin C is also considered the vitamin of the cosmetic industry: it promotes collagen formation in the skin, protects against oxidative stress, and supports the immune system. One serving of Inner Beauty 2.0 provides 50% of your recommended daily requirement!
Pea Protein
Pea protein contains high levels of arginine and lysine and the branched-chain amino acids (BCAAs) leucine, isoleucine, and valine: Keeping you healthy, strong, and happy!
Calcium
The mineral calcium is essential for the normal function of digestive enzymes, muscles, and nerve cells. Bones and teeth also benefit from it. One serving of Inner Beauty plus Digestion Boost covers 50% of the recommended daily requirement.
Why Inner Beauty
is suitable for everyone
Inner Beauty is suitable for veggies, vegans, pregnant & breastfeeding women.
Already 10,000 happy customers are impressed by HER ONE.
For thousands of years, our gut has been considered the central point of our immune system. The skin reflects the health of your gut. Inflammation and unbalanced intestinal flora can cause many physical and even mental problems. To tackle beauty and well-being from within, let's give the gut what it needs: Healthy active probiotics from well-researched strains and plant-based fiber.
Our life-changing synbiotic Inner Beauty has both. And together with the natural calcium capsule, it provides optimal support for your digestive enzymes.
This aesthetic all-rounder is sure to become the favorite party of your new and delicious self-care routine.
Bring your well-being to the next level and support your digestive enzymes with Inner Beauty 2.0 + Calcium Boost!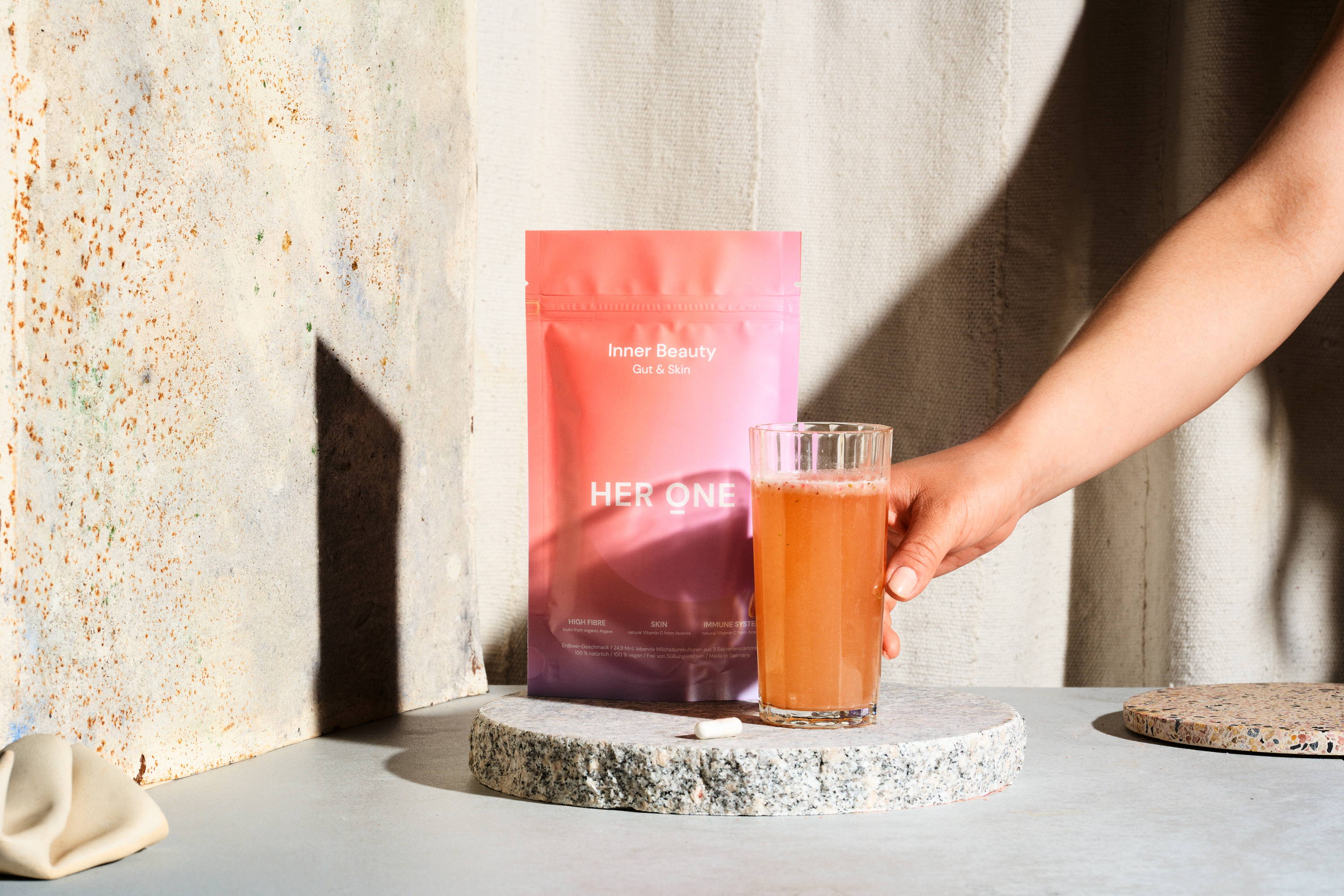 Over 10,000 of our customers are impressed
Highly recommended
by Svenja
I ordered now the third time because the product helps me so much. I have much less bloated belly and feel better. I was skeptical at first, but what can I say: Mega product!
Not only did the product help me, but the customer service is top class. Thank you very much for the quick feedback and the way you deal with customers!
It really helps
by Josephine
Significant improvement in skin appearance, bloated belly as well as significantly less belly pain.